To Promote Skill Based, Knowledge Based Cources/Programmes.


To Enrich The Vocational & Intellectual Competence of Students.


To Improve Global Competence.


To Create Environmental Awareness Among Students.


To Make Eco-Friendly Campus.


To Develop Leadership Qualities In Students.


To Use Higher Education As a Means to Bridge The Gap Between Developing Towns & Underdeveloped Villages.


To Develop Humanistic Values.


Welcome to the S.P College — We believe in Creative
Thinking & Innovation
Principal's Message
Principal's Desk
Vidya Vikas Mandal, Pathrud established Shankarrao Patil Mahavidyalaya, in 1984. It is matter of great pride and honour to lead Sharnakrao Patil Mahavidyalaya at this historic location. Vidya Vikas Mandal was established by founder Chairman Shri. Rambhau Narhari Borade with a commitment to provide quality education to the students from remote villages of Bhoom Taluka. This institution aims at academic excellence and social justice through education. Shankarrao Patil Mahavidyalya has become a center of academic activities in this region. The college began with Arts and Commerce faculties. In 2003, Faculty of Science was also introduced. The college is permanently affiliated to Dr. Babasaheb Ambedkar Marathwada University and has acquired 12B and 2F status of the UGC.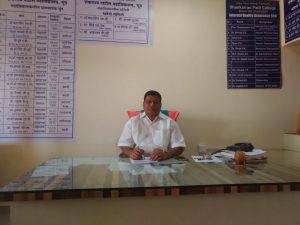 Dr.S.B.Chandanshiv
Principal